A Christmas Affair 2018 Parking Information
A complimentary shuttle ride to and from Barton Creek Mall and Palmer Events Center is included in your ticket price. Parking and shuttle is located at the southeast corner of the Barton Square Mall parking lot next to Abuelo's Restaurant. Cross street is South Mopac Expressway.
Shuttle Hours:
Thursday, 11/15  | 8:00am – 8:00pm
Friday, 11/16  | 8:30am – 11:00pm
Saturday, 11/17  | 8:00am – 7:30pm
Sunday, 11/18  | 8:30am – 4:45pm
Limited parking is available at Palmer Events Center for a fee. Parking is prohibited in the neighborhoods surrounding Palmer Events Center during the event. The Palmer Events Center parking garage can be access from either Barton Springs or Riverside. See map for Palmer Events Center parking garage.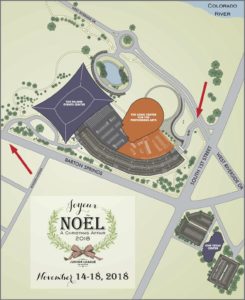 Shuttle Sponsor: