2020 ACA The A Christmas Affair Tradition

The A Christmas Affair 2020 team is proud to announce an exciting reinvention of the annual, iconic holiday event. After analysis of current directions from local and state authorities, and keeping the safety of our volunteers, merchants and guests in mind, A Christmas Affair: Felicidad will be a fully virtual event and marketplace. 
Now in its 45th year, the five-day holiday gift market kicks off the giving season each year and hosts more than 150 regional and national retail merchants. This year, The Junior League of Austin will use a platform that will allow the JLA to support small businesses from around the country and create interaction experiences for its virtual attendees. 
The Junior League of Austin uses the funds raised at A Christmas Affair to provide essential funding to programs such as Coats for Kids, FIT-Food In Tummies and more than 30 local community non-profits.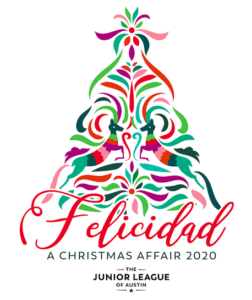 Learn About This Year's Theme: Felicidad
 Felicidad is the Spanish word for happiness. In the 45 years of A Christmas Affair, the key funds raised during this annual holiday market have enabled The Junior League of Austin to share resources, partnership, and happiness with the Central Texas community. Felicidad reflects part of the very fabric of Austin and our JLA membership, celebrating and representing Hispanic culture. The original concept for our holiday market at Palmer Event Center would have featured décor and symbolism representing and honoring pillars of Hispanic culture, including family, community, service, faith, and nature. With a shift to a virtual event, we're taking the opportunity to share a little about what inspired the Felicidad theme.
 The 2020 A Christmas Affair chair, Keri Bellacosa Walling, grew up in San Antonio, Texas, where bright and joyous colors, deep-rooted traditions, and commitment to service are the focus of the holiday season. "Whether I stayed in San Antonio or moved on, I knew early on that I wanted to continue to celebrate the South Texas heritage of the holidays–family, community, and service– in my adult life. When I was honored to be nominated as the 2020 A Christmas Affair Chair, I knew the same happiness I felt back then had to be shared today."
The Felicidad logo is original graphic art by our very own JLA member, Mary Quin Moore, and is inspired by beautiful and elegant Otomí embroidery. This folk art dates back generations in the Indigenous Otomí community, often depicting elaborate and colorful images of flora and fauna from its Mexican region. While the Indigenous Otomí people live in several areas of central Mexico, this style of embroidery (also referred to as Tenango) is native to the isolated region of Tenango de Doria, Hidalgo, Mexico. It is a simplified version of the traditional embroidery done for centuries by the Otomí. The designs are all drawn by hand. The popularization of the art form can be traced back to the small community of San Nicolás in the 1960s, as a response to a local economic crisis at the time.
Be sure to keep an eye out for ethically sourced and fairly traded Otomí art and embroidery in the A Christmas Affair Virtual Marketplace. A number of our merchants partner with artisans in Mexico who hand-embroider this traditional artform today. 
The 2020 A Christmas Affair committee is bringing all of these elements to the very first A Christmas Affair Virtual Marketplace and Party Pack pick-ups. We hope the thoughtful details and special touches bring you the happiness it brings us. For ticket information, visit the A Christmas Affair Tickets.  
 After 45 years, proceeds from A Christmas Affair continue to fuel the programs and mission of The Junior League of Austin. Thank you for sharing your Felicidad with us this holiday season. 

A Christmas Affair Chair
Keri Bellacosa Walling
A Christmas Affair Chair Elect
Julia Null
Assistant to the Chair
Kari Smith
Art/Design/Layout
Kelly Bodu
Alessandra Land
Abbey Ames
Siiri Marquardt
Allison Winney
Auction
Erin Arnold
Emily Franke
Brittany Arndt
Sullie Stephens
Bennett Maggio
Rachel Rogers
Children's Events
Ashley Behara
Erin Kent
Carissa Milam
Marissa Kubinski
Brittany Ward
Facilities
Blair Nelson
Elissa Pate
Food & Beverage
Lisa Galloway
Emily Russell
Jessica Stroder
Guest Relations
Meagan Moll
Tara Holman
Sarabeth Peterson
Hospitality
Lindsay Sims
Meredith Clifford
Ashley Collins
Merchants Logistics
Beth Bowers
Lia Truitt
Staci Betzen
Lauren Hobbs
Victoria Jones
Brooke Morgan
Lauren Spreen
Audrey Young
Merchandise
Mary Quin Moore
Danielle Lobsinger
Kelli Smith
Parties
Benee Arndt
Allison Lee
Tamiko Kelly
Abbi Miller
Placement
Paige Morgan
Sarah Roper-Coleman
PR / Marketing
Levente McCrary
Caitlin Bauer
Victoria Bohn
Jordan Michalik
Production Design
Sheridan Butler Binford
Kimberly McHale
Meredith Armstrong
Lauren Corbett
Elizabeth Doughtie
Stephanie McArthur
Genny Hill
Anne Oitzinger
Sustaining Advisors
Sandy Alcala
Leigh Arnold
Jessica Balladares-Bennett
Lisa Kaspar
Holly Mace-Massingill
Cindy McCuistion
Tina McCutchin
Leslie Moore
Leslie Pardue
Holly Priestner
Stacy Reed
Michele Roach
Gayle Vickers
Technology Project Managers
Rami Legha
Erica Shelgren
Tickets
Amy Miller
Katrina Murphy
Kelsey Hagar
Laura Rodriguez
Traffic & Security
Whitney Oppermann
Arden Wimberly
Hillary Deck
Ashley Flueckiger
Sydney Grubb
Amy Hudson
Amanda Wells
A Christmas Affair Treasurers
Libby Miller
Andrea Pratt