Coats for Kids – Community Fair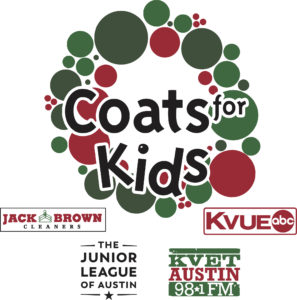 The Junior League of Austin would like to invite you to participate in the Coats for Kids Warm Bodies and Healthy Hearts Community Fair to be held Saturday, December 8, 2018 from 8:30 a.m. to 1:00 p.m. at Palmer Events Center in conjunction with Coats for Kids Distribution Day. The Community Fair provides a unique opportunity for you to reach out to over 6,500 low income Central Texas families on one day, in one location.
Every year, Coats for Kids directly impacts thousands of Central Texas families by providing warm winter coats to children. We strive to expand our impact through the Community Fair by providing a venue for coat recipients to learn about the specific services and programs your non-profit organization provides
To learn more about the fair, please review the fact sheet.
If you have questions, feel free to contact us at (512) 970-6687 or cfkfair@jlaustin.org.
Thank you for all you do for Central Texas!
Sincerely,
Janine Melton and Carrie Dyer
Coats for Kids Community Fair Team, The Junior League of Austin
512-970-6687 or 210-287-5434
cfkfair@jlaustin.org