2021 A Christmas Affair Decorations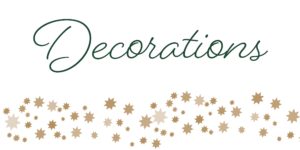 A Christmas Affair is a five-day annual holiday market that raises key funds for the signature programs of The Junior League of Austin, as well as the 30+ community projects the Junior League supports each year. In addition to ticket sales, the proceeds from the sales of the very same decor that transforms Palmer Events Center into A Christmas Affair fuels the mission of The Junior League of Austin.
A Christmas Affair 2021 Production and Design team has curated a collection of home décor inspired by the wintertime activities and holiday traditions enjoyed near a snow-capped mountain town. When you think of our décor this year, we want you to feel as though you've joined us on a joyous sleigh ride, dashing through the snow across the mountains. All decorations will be available for pickup December 3rd through 5th at the Junior League of Austin's Community Impact Center. 
Purchase ACA Decorations Here.
View our Decorations Look Book Now!