Thank You Central Texas!
On Saturday, December 10th, 2016 thousands of families gratefully "shopped" for just the right warm winter coat.  Thank you, Central Texas, for your support and help to keep so many children warm and healthy this year.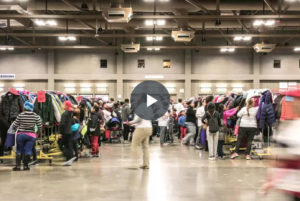 The Austin community did it again!  In this, our 30th year, Coats for Kids is proud to announce the distribution of 34,551 warm winter coats to children in need!
Thanks to the thousands who donated coats, the over 2,200 volunteers who put in the man-hours to make this happen, and to everyone who donated to the purchase of new coats.  This is a community-based initiative and it is because of the support of local groups, businesses, schools, and individuals that the youngest members of our community are protected this winter.
The Junior League of Austin, Jack Brown Cleaners, KVET and KVUE thank you for supporting this worthwhile cause and we wish you all a Happy New Year!  See you back again in 2017!
We would like to thank our 2016 donors:
Antler Mini Storage
Recon Services, Inc.
Austin Community Foundation
Robert & Shirley Huston
Austin Sonic Drive Ins
St. David's Foundation
Beverly & Lucien Galloway
Square Cow Movers
Eagle & Laura Robinson
Texas Stars Foundation
Electric Transmission Texas, LLC
The Bank of America Charitable Foundation
HEB
The Mims Family
Industrial Communications
TRP Construction
Jackie & Jimmy P. Fitzgerald
United Site Services
Jeanne Cooper
Westlake United Methodist Church
Perfect Cuts of Austin, LLC
Whim Hospitality
A special thank you to all the organizations who participated in a Coat Drive this year. With your help we collected 34,551 coats for children in Central Texas.
For a list of Coat Drive Winners and Participants, click here.