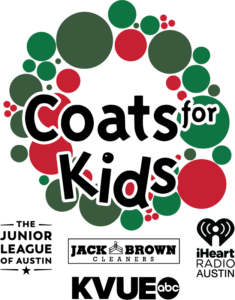 Coats for Kids is in its 34th year and strives to ensure every child in Central Texas has access to a warm winter coat.
Distribution Week is December 1–12, 2020, and will take place through various agencies and schools throughout the community. We are no longer accepting individual coat requests for the Coats for Kids 2020 coat distribution. Here is a list of the agencies receiving our community coats for 2020.
Coats for Kids works with the Texas Health & Human Services Commission, numerous Central Texas school districts, and several social service agencies to identify children who will benefit from this important program.
Please direct any questions to cfkcoats@jlaustin.org or by calling (512) 888-9031.