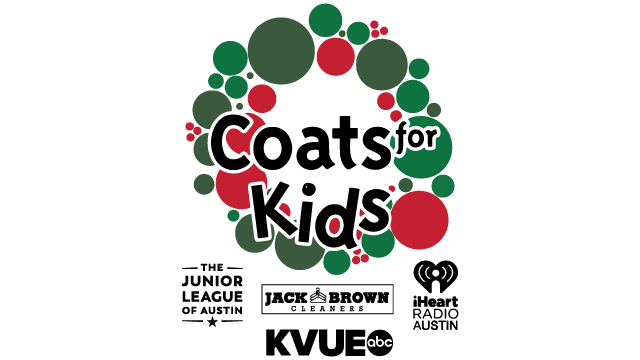 You can donate a brand new coat directly to the Community Impact Center located at 5330 Bluffstone, Austin, TX 78759, through Friday, Dec. 8. Help us keep the children of Central Texas warm this winter!
Participate in the Coats for Kids Coat Drive
Coat Drive Competition: Monday, Nov. 6 – Saturday, Dec. 2
Community Coat Drive: Monday, Nov. 13 – Wednesday, Dec. 6
Distribution Week: Thursday, Nov. 30 – Saturday, Dec. 9
 Let us know the organization you represent, and we will send you information about hosting a successful coat drive.
cfkcoatdrive@jlaustin.org
Group/Business
Friends, neighborhoods, faith-based organizations, and small or large businesses can unite to collect coats. 
Winner Categories:
Non-Profit Organization
Community Group
Large Business (1,000 or more employees)
Medium Business (250-1000 employees)
Small Business (1-250 employees)
School
In the spirit of kids helping kids, we invite area schools to participate in the Coats for Kids School Drive competition. 
Winner Categories:
Preschool
Elementary School
Middle School
High School
Private/Charter School
Thank you for your interest in the Coats for Kids Coat Drive Competition! You can drop off donations at any Jack Brown Cleaners from Nov. 13 – Dec. 2. You can find a list of their locations here: jackbrowncleaners.com/.  Upon drop off, you will be provided a receipt detailing the number of coats donated. Those receipts will need to be emailed to the Coat Drive Coordinators (cfkcoatdrive@jlaustin.org) by the last day of the competition.
Monetary contribution in $20 increments can also count as a coat in the group's competition total. To make a cash donation that will count toward the total (every $20 buys a new coat), donate online or text "GIVEATX" to 243725. (Message frequency will vary. Message and data rates may apply. Reply HELP for help or STOP to cancel. Mobile Terms of Service. JLA Privacy Statement.)
Winners will be invited to the iHeartRadio live broadcast on Wednesday, Dec. 6 and receive an award as recognition for their support.