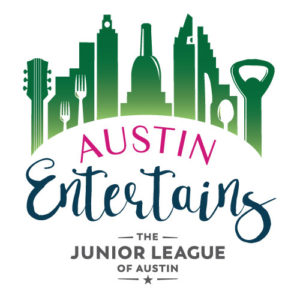 Save the Date
February 24, 2022
The Junior League of Austin Community Impact Center
5330 Bluffstone Lane, Austin, Texas 78759
VIP Admission: 6:30 p.m.
General Admission: 7:00 p.m.
Tier 1 Early Bird General Admission and VIP Tickets go on sale January 4, 2022

Tier 2 General Admission and VIP Tickets go on sale February 4, 2022
The Austin community is fortunate to have a vibrant culinary scene, and the primary goal of Austin Entertains is to elevate and celebrate the key female entrepreneurs that fuel this industry. Now in its sixth year, Austin Entertains supports entrepreneurs and innovative women in the culinary arts by showcasing Austin's most talented female chefs and bartenders alongside local winemakers, breweries and spirit purveyors. With nearly 30 presenting establishments, The Junior League of Austin (JLA) is excited to welcome the Austin community back to the Community Impact Center in-person for this culinary experience led by Central Texas's greatest female chefs. 
Previous participants in Austin Entertains include:
Janie Ramirez, Dai Due
Carol Huntsberger, Quality Seafood
Krystal Craig, Intero
Jess Maher, Lenoir
Paola Guerrero Smith, Buenos Aires Café
Amanda Rockman, Café No Sé
Amanda Whadsworth, Tiny Pies
Lori Schneider, The Cupcake Bar
Elisia Velasquez, Teddy V. Pâtisserie
Our full chef lineup will be announced in February 2022.
This year's attendees can look forward to bites from some of their favorite chefs from years past and a few new additions. Attendees can also anticipate interactive experiences, live entertainment, a silent auction, a raffle, and more! Austin Entertains not only promises to be a fantastic evening of fun but will also raise critical funding for JLA signature programs including Coats for Kids, KICS – Kids in Cool Shoes, and FIT – Food In Tummies.
The Austin Entertains Culinary Fellowship
Returning this year, the Austin Entertains Fellowship furthers the League's support of entrepreneurs and innovative women in the culinary arts. The Fellowship includes a large monetary grant and a suite of services to advance the recipient's business and professional development in the culinary field. Click here to read more about the Fellowship and how Austin Entertains participants can apply.