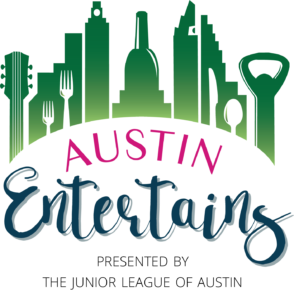 February 22, 2018 at Fair Market
VIP Reception 6:00 – 7:00 P.M.  •  General Admission 7:00 – 10:00 P.M.
SOLD OUT!
The Junior League of Austin hosted its 2nd annual Austin Entertains event Thursday, February 24 at Fair Market.
This year's sold out event had an outstanding turnout; more than 25 female chefs and bartenders, four wineries, four breweries, numerous food and beverage sponsors including; Ranger Creek Whiskey, Deep Eddy Vodka, Dulce Vida Tequila, Cat Tequila, Fara Coffee, Sway Water and Whole Foods; and most importantly, more than 450 attendees.
The Spring Events Committee took over Fair Market in the early morning, and by evening the venue had transformed into a cool, relaxed setting where guests mingled and tasted the flavors of Austin.
As the doors opened for the VIP hour, guests were greeted with passed appetizers and music from local DJ Diesel. The shrimp from Quality Seafood was a hit. Local Austin band, Southtown had everyone up on their feet throughout the night. The ring toss and the silent auction were also wonderful additions that allowed for us to raise even more funds to support The Junior League of Austin's mission.
Meet Our Chefs: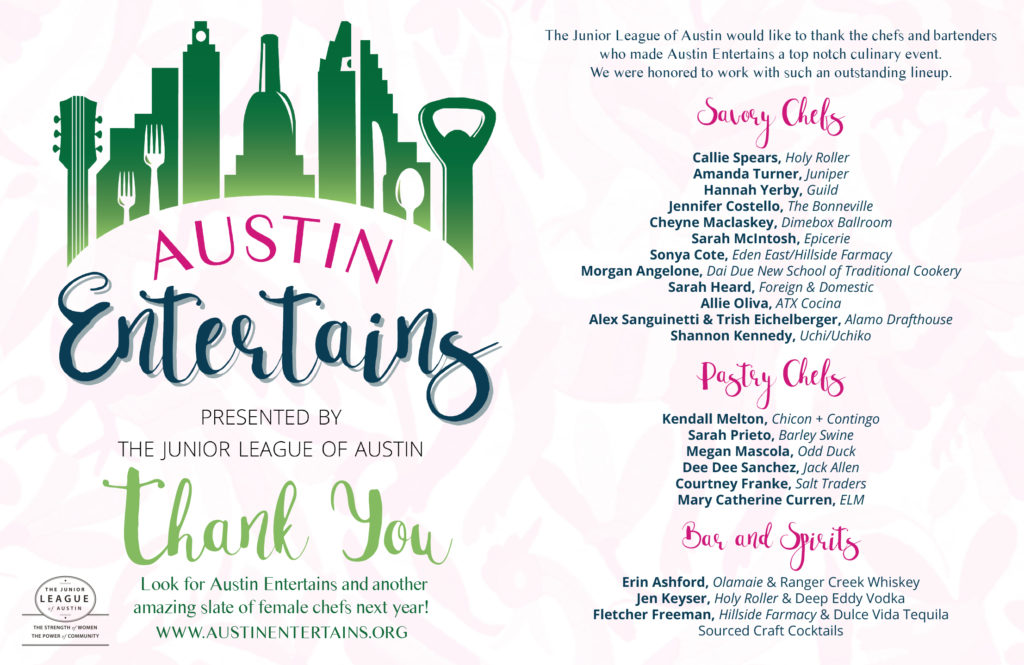 Morgan Angelone – Dai Due's New School of Traditional Cookery and Dai Due Taqueria
Jennifer Costello – The Bonneville
Sonya Cote – Eden East + Hillside Farmacy
Mary Catherine Curren – ELM Restaurant Group
Trish Eichelberger & Alex Sanguinetti – Alamo Drafthouse
Courtney Franke – Salt Traders Coastal Cooking
Sarah Heard – Foreign & Domestic
Shannon Kennedy – Uchiko
Cheyne Maclaskey – Dimebox Ballroom
Megan Mascola – Odd Duck
Sarah McIntosh – Epicerie
Kendall Melton – Chicon + Contigo
Allie Oliva – ATX Cocina
Dee Dee Sanchez – Jack Allen's Kitchen
Amanda Turner – Juniper
Meet our Bartenders:
Erin Ashford – Olamaie & Ranger Creek Whiskey
Fletcher Freeman – Hillside Farmacy & Dulce Vida Tequila
Jen Keyser – Holy Roller & Deep Eddy Vodka
Nancy Phelan – Cat Tequila
Featured Local Wineries:
Mesa Vineyards
Featured Local Breweries:
Capitol Wright
Featured Local Distillery:
Featured Local Beverages:
Meet our Musical Guests:
DJ Diesel is a local female DJ who studied at Austin's own DUB Academy. She adds a magical twist to your favorite songs that will have you moving to the beat in no time!
Southtown, an Austin-based party band with an energizing pop/funk sound that will have you dancing to the beat all night long! 
Austin Entertains – VIP Ticket: $150 
Enjoy a private cocktail reception, tastings, cocktails and live music. VIP ticket includes:
Special VIP cocktail reception from 6:00-7:00 p.m. with passed hors d'oeuvres prepared by a top secret chef.

Exclusive access to bubbles service throughout the VIP reception and main event.

Complimentary valet parking.

VIP gift bag.

Plus entrance to the main event – Austin Entertains!
SOLD OUT!
Austin Entertains – General Admission Ticket: $85
Enjoy tastings, cocktails, and live music. General Admission ticket includes:
Gourmet samplings from 18 of Austin's finest female chefs, including a wide range of savory and sweet treats certain to delight even the most refined of palates!

Samplings of local wines, craft beers and handcrafted, artisan cocktails prepared by Austin's premier female bartenders.

Live music performance by

Southtown

.

Silent auction featuring unique gifts and experiences ranging from surfing at

NLand Surf Park

to a private tasting party at

Vista Brewing Company

.

Fun games and fundraising activities, including Fund-A-Need, an easy way to help support the Junior League of Austin and it's charitable programs.

Take-home gift provided by our sponsors.
*Please note: parking near Fair Market is limited. We strongly encourage all General Admission guests to carpool with friends or use a ride-share service.
SOLD OUT!
*This is a 21 and over event. Valid ID is required for all attendees. No children or infants permitted.
FOR MORE INFORMATION, PLEASE CONTACT – Julie Hildebrand, Spring Events Chair 2017-18, springevents@jlaustin.org
By attending Austin Entertains you authorize The Junior League of Austin to use your image in any photos taken at the event for any lawful purpose including, but not limited to marketing and promotional purposes.
Thank you to our sponsors for their generous support. If you are interested in sponsorship opportunities, please contact The Junior League of Austin Fund Development Vice President at funddevelopmentvp@jlaustin.org.