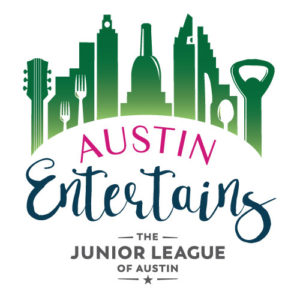 Mark your calendars for The Junior League of Austin's 6th annual Austin Entertains! We are thrilled to return for an in-person culinary experience in 2022.
SAVE THE DATE
February 24, 2022
In the Austin community, we are fortunate to have a vibrant culinary scene, and the primary goal of Austin Entertains is to elevate and celebrate key female entrepreneurs that fuel this industry. This annual event will support innovative women in the culinary arts by showcasing our most talented female chefs, bartenders, local winemakers, breweries and spirit purveyors. 
Given the impact of COVID-19 on the hospitality industry over the past year and a half, this year's event will reflect our continued solidarity with our restaurant partners. Austin Entertains raises critical funding for The Junior League of Austin's signature programs, including Coats for Kids, FIT – Food In Tummies, and KICS – Kids in Cool Shoes. 
Your support is truly making a difference in the Austin community!