The Junior League of Austin proudly supports the efforts of our Done-In-A-Day partners with volunteer support for community events.
Application Process for 2020-2021 Projects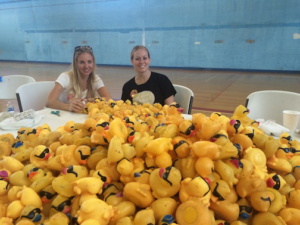 Done-In-A-Day is a series of concentrated projects that provide assistance to non-profit agencies by offering volunteers for community-based events on a short-term basis. Volunteers can provide support at a variety of events including fundraisers, however volunteers may not solicit funds or goods for an agency prior to or during an event. Done-In-A-Day volunteers can help with events such as picnics, food bank distribution, holiday parties, egg hunts, 10K race water distribution, children's shoe collection and delivery, just to name a few areas of assistance.  Volunteer placements are generally scheduled in four-hour shifts over a time span of half-a-day, one-day or two-day periods.
The following application deadlines apply for the 2019-2020 year:
FALL Cycle: Applications due June 30, 2020 for projects running September 1, 2020 through November 30, 2020
WINTER Cycle: Applications due September 30, 2020 for projects from December 1, 2020 through February 28, 2021
SPRING Cycle: Applications due December 22, 2020 for projects from March 1, 2021 through May 31, 2021
SUMMER Cycle: Applications due March 30, 2021 for projects running from June 1, 2021 through August 31, 2021
Applications are to be submitted online at www.jlaustin.org.  Please click here or on the following link to access the 2020-2021 online application.
In the event you have a last minute or emergency need for Volunteers, please submit a Done-In-A-Day Emergency Application.  The application will be reviewed and you will receive a response quickly.  Please do not forget to state in your application why this is an emergency or your application will not be considered. Please click here or on the following link to access the emergency application.
Emergency applications must be submitted at least one month before the event, in order to obtain approvals and recruit volunteers. We will not be able to approve applications submitted less than one month before the event.
Done-In-A-Day Emergency Application
Frequently Asked Questions About Done-In-A-Day and the Application Process
To add your non-profit agency to our email list to receive notices for future project orientations and application deadlines or to update your contact information please complete this form.
For questions please contact:
Amanda Prater
Done-In-A-Day Chair (DIAD) 2020-21
The Junior League of Austin
5330 Bluffstone Lane
Austin, TX  78759
512.888.9041
diadchair@jlaustin.org