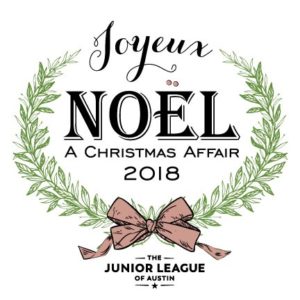 The Junior League of Austin's 43rd annual A Christmas Affair, Joyeux Noël, will be held November 14-18 at Palmer Events Center. This year's four-day holiday market is a vintage celebration of the season with a French flair. The Junior League of Austin uses the funds raised at A Christmas Affair to provide essential funding and volunteer hours to programs such as Coats for Kids, FIT-Food In Tummies and over 30 local community non-profits.
This year A Christmas Affair will feature more than 200 merchants from across the country and The Junior League of Austin expects more than 25,000 shoppers to attend. Behind the scenes, a volunteer force of 1,300 League members staff the event, making every detail perfect for the guests. The holiday market opens to the public on Thursday, Nov. 15 at 12 p.m., following a preview event on Wednesday, Nov. 14.
Market Hours
Thursday, November 15 | Noon – 9 p.m.
Friday, November 16 | 10 a.m. – 8 p.m.
Saturday, November 17 | 10 a.m. – 8 p.m.
Sunday, November 18 | 10 a.m. – 4 p.m.
Thank you to our sponsors for their generous support. 


Merchant applications for A Christmas Affair 2018 waitlist are closed. Check back in January when the application for A Christmas Affair 2019 opens! New prospective merchants, please use the instructions below to create a profile and receive updates. Contact acamerchants@jlaustin.org with any questions.
Returning A Christmas Affair Prospective Merchants:
 If you're a returning prospective merchant applicant, you will use the same login and password as before. Please do NOT recreate a new account if you have applied in past years. You can reset your password on the login screen if you have forgotten it. Click here to login to your account and access the 2018 Merchant Application.
New Prospective Merchants:
If you're a new prospective merchant application, you must first create and activate a profile before you will be allowed to complete the 2018 Merchant Application. Click here to create a profile and request a login account.