**During the COVID-19 crisis, the Food in Tummies Program will continue to deliver supplemental packs of food to elementary school students in Del Valle ISD. The program has expanded and is now serving 8 additional schools in addition to Baty and Hillcrest Elementary. The Junior League of Austin is proud to help our community during this time of need.**

FIT MISSION
To educate children, parents and the community in order to promote nutritional health and maximize student potential.
FIT VISION
To eliminate weekend hunger in our community and ensure children and families have knowledge to make informed nutritional choices.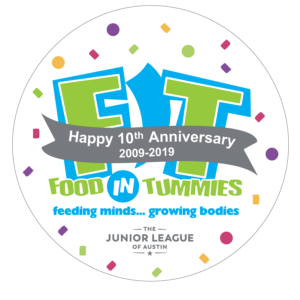 Food In Tummies (FIT) is an innovative program designed by The Junior League of Austin (JLA) in collaboration with the Del Valle Independent School District (DVISD) that provides weekend nourishment to children grades K through 5th across two elementary school campuses. "Nearly 90 percent of our student population lives at or below the poverty line," Celina Bley, Del Valle ISD Assistant Superintendent of Finance and Operations, said. "The FIT program makes a real impact—not only with the weekly backpacks, but the community interaction our children receive when members of the Junior League come on our campus each week." During the 2019‐2020 school year, the FIT program provided approximately 950 backpacks each week for 34 weeks to the entire student populations at both Baty Elementary and Hillcrest Elementary. Each week, the JLA, thanks to the support of more than 250 volunteers, packs the backpacks, delivers them , collects the empty bags, and then re‐pack them with food for the following week. Each backpack also includes a flyer in both English and Spanish with healthy tips and other important information for students to share with their families.
Now in its 10th year, the FIT program will continue to provide backpacks of nutritious food to all students at each of these Del Valle ISD schools.
CHILDREN FACING HUNGER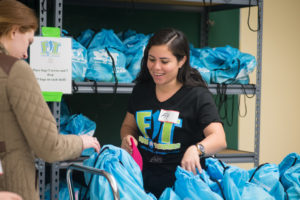 According to the Central Texas Food Bank of Texas, Texas ranks among the worst states in the nation for hunger, child hunger and obesity. One in every five children in Central Texas experiences food insecurity. Multiple studies and extensive research show that children who are hungry do not excel in school. The National School Lunch Program addresses the issue of hunger during the school week, but not on the weekend. In most cases, it takes a child who has gone without proper nourishment through the weekend until Wednesday to recover, only to start the cycle again each Friday. Children without access to adequate amounts of food over the weekend have higher rates of absenteeism, difficulty with concentration and classroom behavior. That is where the FIT program steps in.
By feeding an entire student population currently experiencing food insecurity, we expect to see improved attendance at school (especially on Mondays and Fridays), improved BMIs and decreased mobility of families whose children take part in the NSLP. Children in our community are hungry; help us feed them.
LEARN MORE ABOUT FIT
WHAT STUDENTS AND TEACHERS ARE SAYING ABOUT FIT
"Thank you for dedicating your time to prepare the individual bags. You truly provided a great service to our school."   – 3rd Grade Teacher, Hillcrest Elementary
"I think having extra food over a weekend can be a lifesaver."  – 1st Grade Teacher, Hillcrest Elementary
"Thank you for this program. You are servicing a need that would otherwise go unnoticed."  – Pre‐K Teacher, Baty Elementary
"I love knowing the students have something healthy to eat."  – 4th Grade Teacher, Baty Elementary
"Thanks for all the money you spent on our school. I'm sure everybody loved them because I did.  I loved the popcorn chips—it was my emergency snack."  – 3rd Grade Student, Hillcrest Elementary
"Thank you for the food you donated to us; and thank you for filling our empty tummies."  – 3rd Grade Student, Hillcrest Elementary
"I like receiving the FIT bag because when my mom is working and I'm hungry, I can get good food to eat."  – 4th Grade Student, Baty Elementary
FIT IN THE NEWS
Please visit our Press Releases page.