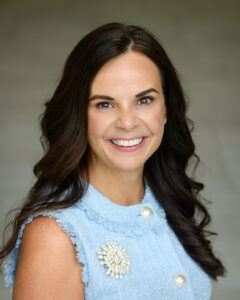 I would like to extend a warm welcome on behalf of the more than 2,000 members of The Junior League of Austin. This year marks the 90th anniversary of the League and I would like to recognize and celebrate our membership's accomplishments over nearly a century of service to Austin. As the 2023 – 24 President, it is an honor for me to serve the League, our members, and our community throughout the coming year. We look forward to continuing our mission of advancing women's leadership for meaningful community impact through volunteer action, collaboration, and training.
In the coming year, we will focus on how we can broaden our reach and make sure that all women can find a place in The Junior League of Austin. Through a new membership recruitment committee, we will expand our capacity as a league by building a membership pipeline. This will be done through innovative strategies that give women opportunities to connect with our members and our mission before joining the League. We will also provide resources for current and potential members to ensure that all members feel included and valued. We will work to create a supportive and diverse community, where all women can contribute their unique skills, perspectives, and experiences.
During our 90 years, the League has a history of creating and implementing programs that address the needs of our community and we will carry on that legacy. Our signature impact programs, Coats for Kids, Food in Tummies (FIT), and Kids in Cool Shoes (KICS) have and will continue to reduce food insecurity among children, provide well-fitting shoes to children so that they can run and play with their friends, and ensure that children have access to warm coats during the winter. Our members continue to support more than 20 local community-based organizations through volunteer hours and funding.
These incredible programs would not be possible without our annual fundraisers, A Christmas Affair and Austin Entertains, and hosting external events at our Community Impact Center.
I am prouder than ever to be a member of this organization. Our members have worked hard to create a community of strong, empowered, and influential women dedicated to making Austin a better place.
I invite you to learn more about who we are, what we do, and how you can get involved in this incredible organization.
On behalf of our Board of Directors and membership, thank you for your interest and support of The Junior League of Austin.
Haley Gardiner
President 2023-2024
Instagram: @jlaustin_president
Facebook: @JLAustin.org