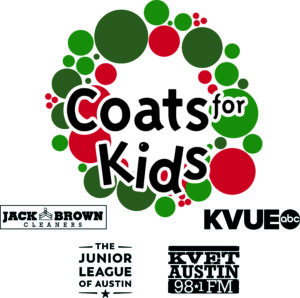 Coats for Kids is a success due to the tremendous support received by the community year after year. Approximately 2,200 volunteers work together to sort, hang, and organize the thousands of winter coats donated for distribution. In response to COVID-19, and to be mindful of the health and safety of our volunteers and recipients, we are modifying volunteer opportunities for 2020.
Although different than years past, we hope you are able to attend and find it just as fulfilling, knowing your time is critical to our ultimate goal of keeping Central Texas children warm this winter.
VOLUNTEER OPPORTUNITIES:
SORTING WEEK
Help prepare donated coats for distribution to children!
Sorting Week is December 1–12, 2020.
Sorting Week volunteers MUST be at least 18 years old.
Location: The Junior League of Austin Community Impact Center, 5330 Bluffstone Lane, Austin, Texas 78759
Sign up to volunteer during Sorting Week beginning Friday, October 23, 2020!
ORGANIZE A COAT DRIVE
Organize a coat drive at your neighborhood school, place of business, community organization, or place of worship.
Click here to get started on a coat drive! (Coat Drive registration begins October 5, 2020.)
For more information, please contact The Junior League of Austin Coats for Kids office at (512) 467-8982 or via email at cfkvolunteers@jlaustin.org.