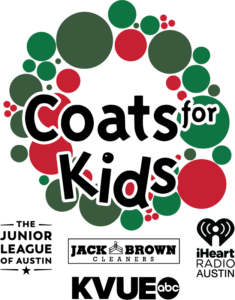 Coats for Kids is a success due to the tremendous support received by the community year after year. In 2020, approximately 950 volunteers worked together to sort, hang, and organize the thousands of winter coats donated for distribution. In response to COVID-19, and to be mindful of our volunteers and recipients' health and safety, we modified volunteer opportunities for 2020.
Although different than years past, we hope you attended and found it just as fulfilling, knowing your time was critical to meeting our ultimate goal of keeping Central Texas children warm this winter.
For more information about volunteering in 2021, please check this site for updates or contact The Junior League of Austin Coats for Kids office at (512) 467-8982 or via email at cfkvolunteers@jlaustin.org.