A Christmas Affair 2018 Tea Room Tickets and Information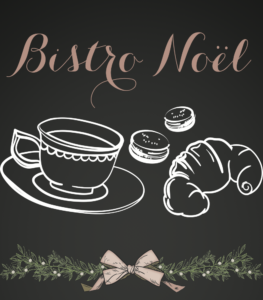 Join us in our beautifully decorated tea room, Bistro Noël, located on the upper level. Delicious lunches will be served Thursday, Friday, and Saturday,  catered by Sterling Events & Catering. Tearoom Tickets are $17, plus tax.
Menu:
Thursday
First Course
Fall Salad with cherry tomatoes, toasted pecans, feta cheese, sweet Red onions and Champagne Vinaigrette
Main Course
Quiche Lorraine, with ham & bacon
Served with Brown Butter Asparagus
Vegetarian: Quiche Florentine served with brown Butter Asparagus
Dessert
Angel Food Cake with Strawberry Compote
Friday
First Course
Potato Leek Soup with Crispy Fried Leeks
Main Course
French Shrimp Salad
Served with Lemon and Garlic Marinated Grilled and Chilled Shrimp, Spring Mix, Pickled Carrots, Feta, Cherry Tomatoes, Marinated Artichoke Hearts, Dijon Vinaigrette
Vegetarian: Grilled Marinated Tofu on French Salad
Dessert
White Chocolate Bread Pudding with Caramel Brandy Sauce
Saturday
First Course
Spinach Salad with Toasted Pecans, Goat Cheese, Red Onion, Roasted Shallot Vinaigrette
Main Course
Sauteed Frenched Chicken
Served With Lemon Caper Butter, Roasted Broccoli and Rosemary Roasted New potatoes
Vegetarian: Quinoa Stuffed pepper, Roasted Broccoli and Rosemary Roasted New Potatoes
Dessert
Madeleine Cake with Raspberry Sauce
Tickets to all events are now available for purchase online until November 13th. All tickets purchased online will be delivered electronically. Beginning November 14th, any available tickets to parties, children's and family events, and the tea room will be available at the the box office at Palmer Events Center. Market tickets can be purchased online or at the door through Sunday, November 18.
Tea Room Sponsor: