A Christmas Affair Market Days & Ticket Information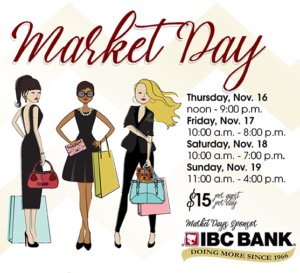 Download our free A Christmas Affair app!

MARKET DAYS:
THURSDAY, NOV. 16TH • NOON – 9:00 PM
FRIDAY, NOV. 17TH • 10:00 AM – 8:00 PM
SATURDAY, NOV. 18TH • 10:00 AM – 7:00 PM
SUNDAY, NOV. 19TH • 11:00 AM – 4:00 PM
TICKETS – $15 PER DAY – AVAILABLE FOR PURCHASE ONLINE OR AT THE BOX OFFICE
Market Days Sponsored By: IBC Bank

Christmas Tree Sponsored By: Whole Foods Market
Shuttle Sponsored By: Capitol Chevrolet
Thursday Photo Keepsake by the Tree Sponsored By: St. David's Healthcare
PARKING
Parking is prohibited within the neighborhoods surrounding Palmer Events Center during A Christmas Affair.
Parking is available at Barton Creek Square Mall with complimentary shuttle service to and from Palmer Events Center. The shuttle will be available in the parking lot across the street from Abuelo's Restaurant.
Paid parking is available at Palmer Events Center for all hours of A Christmas Affair and at the Texas One Center Garage after 5pm on weekdays and during the weekend. The Texas One Center Garage is located nearby at 505 Barton Springs Road.
Shuttle Hours:
Thursday: 8:00 AM – 10:30 PM
Friday: 8:30 AM – 10:30 PM
Saturday: 7:30 AM – 7:30 PM
Sunday: 8:30 AM – 4:30 PM
TICKET INFORMATION
A Christmas Affair tickets are available for purchase at Palmer Events Center's Box Office as well as Austin area Randall's grocery stores.
Special Event and Market Day tickets can be purchased online or at the box office. 
Tickets for Couture Cafe (Tea Room) may be purchased for $16+tax online through November 14th. After November 14th, tickets may only be purchased through Palmer Events Center box office.
TICKET INCLUDES:
A complimentary shuttle ride to and from Barton Creek Square Mall and the Palmer Events Center.  Market day tickets are general admission to the market to browse more than 200 carefully selected local and national merchants.
Children five years and under may enter at no charge during regular market hours. Tickets are required for special events and parties.
For assistance purchasing tickets, please call  (512) 888-9021 or email the Tickets Team at ACATICKETS@JLAUSTIN.ORG
BOX OFFICE HOURS
Wednesday, November 15, 2017
9 a.m. – 1 p.m.
5:30 p.m. – 7 p.m.
Thursday, November 16, 2017
8:30 a.m. – 8:30 p.m.
Friday, November 17, 2017 
8:30 a.m. – 8:30 p.m.
Saturday, November 18, 2017
8:30 a.m. – 6:30 p.m.
Sunday, November 19, 2017
8:30 a.m. – 3:30 p.m.
Coat check is available for $3.00. Strollers and pull carts are NOT permitted inside Palmer Events Center.
Coat Check Sponsored By: Tide Dry Cleaners