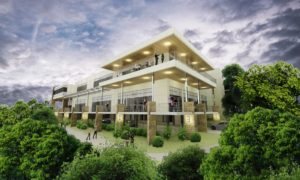 The Junior League of Austin is excited to plan for the future of our organization and the Austin community with our capital campaign – Breaking Ground…Building on a Legacy.
The Community Impact Center will be located on Bluffstone Drive in Northwest Austin to serve as both a headquarters for our operations and a collaboration space for community engagements.
This new space will help to meet the growing needs of our City and the League's membership.
Hear about why Austinites invest in the campaign:
Why I Give – Ericka Freels from The Junior League of Austin on Vimeo.
Fun Facts about the Community Impact Center:
The 48,000 square foot and two-story Community Impact Center will serve as a meeting space for the League and the Austin Community. 

Collaboration and innovation will be inspired in the prominent Ballroom, conference rooms, private meeting rooms and open spaces. 

Natural beauty of the green belt is highlighted with over 6 acres dedicated to green space and tree cover.

The Junior League of Austin's administrative offices will be housed upstairs with meeting space to match our ever-growing membership. 
••••THANK YOU to our many donors•••• 
Click here to see who supports our Community Impact Center
SEE the
Community Impact Center READ about the
Capital Campaign
Interested in being part of this historic effort? Consider investing today.
There are many ways to donate in addition to a cash gift.