Coats for Kids – Community Fair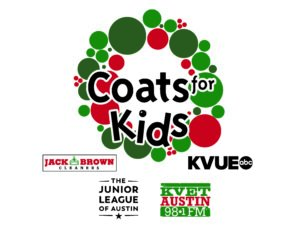 After you receive your warm coat at Coats for Kids, step outside to enjoy the Coats for Kids Community Fair!  The Community Fair takes place on the Palmer Events Center patio from the hours of 8:30am-1 pm on Saturday, December 7th.  Several Austin agencies will be on site to offer information about resources in our community.  This is an opportunity for children to receive a free flu shot, vision screening, pick up a free book and other fun giveaways.  Plus, parents can get information about access to health care, gun safety in the home, and college affordability.  We hope you'll take advantage of all that the Community Fair has to offer!  If your agency or group is interested in participating in the community fair, please apply here.
Many thanks to our 2018 participating agencies:
Access Dental

Austin Child Guidance Center

Austin Downtown Founder Lions Club

Austin Municipal Court Safe Driving Program

Austin Public Library

B*Tru Arts

Be SMART

Blue Cross and Blue Shield of Texas

BookSpring

Breakthrough Central Texas

Catholic Charities of Central Texas

Central Health

Dell Children's Health Plan

Dress for Success

Foundation Communities

Generation Serve

Green Corn Project

Literacy Coalition of Central Texas (PALS Program)

MyDental

NFL Alumni- Austin Chapter

Shots for Tots/Big Shots- Education

Shots for Tots/Big Shots- Flu Shots

St. David's Foundation

Strong Start

Texas Organ Sharing Alliance

Texas Health Steps and STAR Programs

Therapy Pet Pals of Texas

Thinkery

Travis County Medical Alliance Foundation

United Way for Greater Austin- 2-1-1 Program

Wayside Schools
If you have any questions about attending or participating in the Fair, feel free to contact our Coats for Kids Community Fair Leads, Lauren Corbett and Kim Gibson at (630)730-5628 or cfkfair@jlaustin.org.
We'll see you at the Fair!