Coats for Kids – Community Fair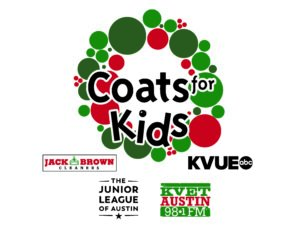 After you receive your warm coat at Coats for Kids, step outside to enjoy the Coats for Kids Community Fair!  The Community Fair takes place on the Palmer Events Center patio from the hours of 8:30am-1 pm on Saturday, December 7th.  Several Austin agencies will be on site to offer information about resources in our community.  This is an opportunity for children to receive a free flu shot, vision screening, pick up a free book and other fun giveaways.  Plus, parents can get information about access to health care, gun safety in the home, and college affordability.  We hope you'll take advantage of all that the Community Fair has to offer! 
Many thanks to our 2019 participating agencies:
2-1-1 United Way for Greater Austin
Access Dental
Austin Creative Reuse
Austin Energy
Austin Fire Department
Austin Founder Lions Club
Austin Public Library
Be SMART
Blue Cross and Blue Shield for Texas
BookSpring
Capital Area Metropolitan Planning Organization (CAMPO)
Catholic Charities of Central Texas
Center for Child Protection
Dell Children's Health Plan
Foundation Communities
Green Corn Project
Ladies Let's Talk
Latinitas Magazine
Literacy Coalition of Central Texas
Literati
Marathon Kids, Inc.
Mary Lee Foundation
myDental
Saint Louise House
Strong Start
Superior Health Plan
Texas Health Steps and the STAR Program
Texas Workforce Commission- Education Outreach
Therapy Pet Pals of Texas
Thinkery
Todos Juntos Learning Center
Travis County Medical Alliance Foundation
Trevor Romain Company
Variety- the Children's Charity of Texas
If you have any questions about attending or participating in the Fair, feel free to contact our Coats for Kids Community Fair Leads, Lauren Corbett and Kim Gibson at (630)730-5628 or cfkfair@jlaustin.org.
We'll see you at the Fair!