Coats for Kids – Coat Drive Winners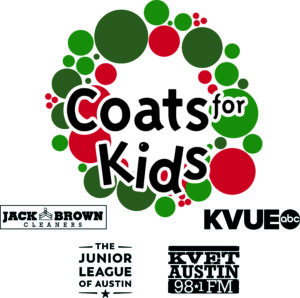 2019-2020 Coats for Kids Coat Drive Competition Winners
Last year we registered over 250 schools, businesses, and organizations for the 2019 Coat Drive Competition around the City of Austin. In only three weeks, together they brought in over 13,500 coats which accounts for almost half of all donations for Coats for Kids last year. The Junior League of Austin, KVUE, KVET and Jack Brown Cleaners are so grateful for the continued outpouring of support.
2019 Coats For Kids School Winners
Preschool: Rising Stars Preschool
Elementary School: Linda Herrington Elementary School
Middle School: O. Henry Middle School
High School: Pflugerville High School
Private School: St. Gabriel's Catholic School
2019 HERO(s) at the HALF
Jubilee Wells Branch
2019 Business/Non-Profit/Community Group
Non-profit: Texas Methodist Foundation
Community Group: West Cypress Hills Camp Gladiator
Small Business: Sanova Dermatology
Medium Business: Innovative Aftermarket Systems (IAS)
Large Business: Williamson County Sheriff's Office
THANK YOU TO ALL PARTICIPANTS IN THE COATS FOR KIDS COAT DRIVE COMPETITION
3 East Neuro
Accenture
Akins Early College High School
Altamira Academy
Austin Children's Choir
Austin Commercial
Balcones Woods Neighborhood
Barton Creek Elementary
Ben White Bingo
BigCommerce
Brandywine Realty Trust
Breeze Salon and Spa
Brookhollow Elementary School
Capitol School of Austin
Care Options for Kids
Caroline's Coats
Casis Elementary
Central Texas Orthodontics
Chaparral Star Academy
Cheer Athletics
Claire Pry's Birthday Coat Drive
Clayton Elementary School
Clean'n Green
Clearhead
Common Desk
Container Management Inc.
Continental Automotive Group
Convey
CrossFit 3 Strands
Dell GCC
Dell HR
Dell ISG Production
Dell Technologies (North America Central Region Commercial Sales)
DISCO
DLA Piper
Dunaway
Eanes Elementary
Environmental Systems Corporation
General Motors Austin IT Innovators
Girl Scout Troop 2202
Google
Gorzycki Middle School
GSCTX – Troop 514
Guidepost Montessori at Brushy Creek
Hahn Public Communications
Health & Human Services Commission
Hill Elementary
Innovative Aftermarket Systems (IAS)
Intel
Jubilee Wells Branch
JuicePlus+
Keller Williams Xperience Network
Kimley-Horn
Kinder Haus Childcare Pflugerville
KIPP Austin Connections Elementary
Knight of Columbus Council #7600
Lake Pointe Elementary
Lantana Homeowners Association
Leander Dental Care
Lee County Texas Stars 4-H Horse Club
Linda Herrington Elementary School
Los Pentecostales de Austin
Magellan International School
Magnolia Realty Austin
Mansions of Georgetown
Merrill Lynch
Mills Elementary School
NSR Holdings (EBQuickstart)
Nutrabolt
Northwest Montessori
O. Henry Middle School
One World Montessori
Pflugerville High School
Precision Podiatry
Primrose School at Mueller
Primrose School at Pflugerville
Redeemer School
Rising Stars Preschool
Riverbend Christian School
Rock Springs
Rosendin Electric, Inc.
Rowe Lane Elementary School
Sanova Dermatology
Shepherd of the Hills Presbyterian Preschool
Small Middle School
SOMASPACE
South University
St. Andrew's Episcopal School – Middle School
St. Austin Catholic School
St. Dominic Savio Catholic High School
St. Francis School
St. Gabriel's Catholic School
St. Theresa Catholic School
Steiner Ranch School
Sycamore Spring Elementary School
Tanglewood Vision Center
Texas Juvenile Justice Department
Texas McCombs MBA
Texas Methodist Foundation
The Bowie
The Porter Co.
The Rock Enrichment Academy
Timy Baranoff Elementary
Twin Lakes YMCA
Weiss High School Baseball Team
West Cypress Hills Camp Gladiator
Williamson County Sheriff's Office
WLE Landscape and Irrigation
Worldwide Clinical Trials
Zilker Elementary
ZTA Austin Alumnae Chapter