Coats for Kids – Coat Drive Winners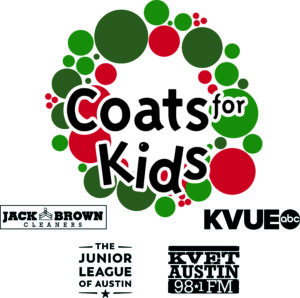 2018-2019 Coats for Kids Coat Drive Competition Winners
Last year we registered over 214 schools, businesses, JLA members, and organizations for the 2018 Coat Drive Competition around the City of Austin. In only three weeks, together they brought in over 11,000 coats which accounts for almost one-third of all donations for Coats for Kids last year. The Junior League of Austin, KVUE, KVET and Jack Brown Cleaners are so grateful for the continued outpouring of support.
2018 Coats For Kids School Winners
Preschool: Rising Stars Preschool
Elementary School: Rowe Lane Elementary
Middle School: O. Henry Middle School
High School: Pflugerville High School
Private School: St. Austin Catholic School
2018 HERO(s) at the HALF
Pflugerville High School
2018 Business/Non-Profit/Community Group
Non-profit: Bannockburn Baptist Church
Community Group: Camp Gladiator- West Cypress Hills
Small Business: Sanova Dermatology
Large Business: Williamson County Sheriff's Office
JLA Member: Claire Pry (Rachel Pry's Daughter)
THANK YOU TO ALL PARTICIPANTS IN THE COATS FOR KIDS COAT DRIVE COMPETITION
Actian
Addison Group
Advantage Solutions
Bannockburn Baptist Church
Bryant Electric Service
Buckets
Buda 4-H Club
Cadence McShane Construction
Camp Gladiator
Caroline's Coats
Central Texas Orthodontics
CFK committee
Cheer station
City of West Lake Hills (Government)
Clean'n Green
Community Council
Convey Inc
CYL Sauna Studio
Dell – SFDC Lightning
Dell Commercial Client Business Unit
Dell EMC – GCN Organization
Dropoff
Echelon Advisors
Everi
Facebook
FASTSIGNS of Austin and Cedar Park
Gehan Homes – Leander Crossing
General Motors
GlobalFoundries, Inc.
Google
Health & Human Services Commission
InsideView
Integra Life Sciences
J. B. Goodwin Realtors, Lake Travis
JE Dunn Construction
JLA 2018-2019 Communications Council Team
Junior Austin Woman's Club
Katz Builders, Inc.
Lantana HOA (neighborhood)
Lee County Texas Stars 4-H
MAXIMUS, Inc.
Membership Development Team
Merck & Co, Inc.
Merrill Lynch
Mesa Dental
More Than A Teacher
Onnit Gym
PK Acupuncture & Wellness
Reilly Realtors
SailPoint Technologies
Sanova Dermatology
SoulCycle Austin
Stadium People
Team Admin Council
Texas Association of School Boards
Texas Juvenile Justice Department
The Flats on San Felipe
The LINE Austin
The University of Texas at Austin College of Natural Sciences
TOC Eye and Face
Travis County District Attorney's Office
TriNet USA, Inc
Twin Lakes Family YMCA
University of Texas System
Verizon Wireless
Volusion
Williamson County Sheriff's Office
Zinda Law Group, PLLC
Communications Council
Fund Development Council
Claire Pry
Little Smiles Pediatric Dentistry
All Austin Co-Op Nursery School
Brookhollow Elementary School
Casis Elementary
Dripping Springs Elementary
Eanes Elementary/Eanes Elementary PTO
Eden Park Academy
Gorzycki Middle School
Hill Country Christian School of Austin
International Montessori House of Children
Jubilee Wells Branch
Kinder Haus Childcare Pflugerville
Lake Pointe Elementary
Lakeway Elementary
Linda Herrington Elementary School
Magellan International School
O. Henry Middle School
Pflugerville High School
Pond Springs Elementary
Primrose School of Pflugerville
Rising Stars Preschool
Riverbend Christian School
Rowe Lane Elementary
School's of Paragon Prep
Shepherd of the Hills Presbyterian Church Preschool
St. Austin Catholic School
St. Francis School
St. Gabriel's Catholic School
Steiner Ranch Elementary
The Learning Tree Preschool
Timy Baranoff Elementary
Williams Elementary
Davis Elementary