Coats For Kids – Receive A Coat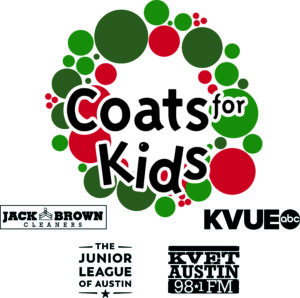 Coats for Kids is in its 33rd year and strives to ensure every needy child in Central Texas has a warm winter coat.
Distribution Day is December 7, 2019, and takes place at two locations:
Palmer Events Center (900 Barton Springs Road, Austin, TX 78704)
Del Valle Elementary School (5400 Ross Road, Del Valle, TX 78617)
Coats for Kids works with the Texas Health & Human Services Commission, numerous Central Texas school districts, and several social service agencies to identify children who are eligible for this important program.
Click the links below for recipient eligibility:
CFK 2019 Flyer – English Version  or   CFK 2019 Flyer – Spanish Version
Please direct any qualification or processing questions to cfkcoats@jlaustin.org or by calling (512) 888-9031.
Thank you for your support of Coats for Kids and the children of Central Texas.