Coats for Kids – Community Coats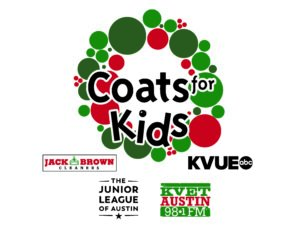 Community (surplus) coats/winter clothing from the Coats for Kids coat drive will be donated to a select number of organizations who serve a large number of children. Surplus distribution will take place on Saturday, December 8th and Sunday, December 9th, 2018.
Eligibility requirements are as follows:
Organization must be a registered not-for-profit entity
Organization must provide their Tax Exemption Number
Organization must provide coats/winter clothing to families in need at no cost
Organization must serve the Central Texas area (Travis, Williamson & Hays counties)
Organization must acknowledge that organizations serving children will have priority over agencies only serving adults
Organization must be available to pick up coats/winter clothing on 

Saturday, December 8th and Sunday, December 9th
If you are interested in being considered to receive community (surplus) coats and meet the criteria above, please complete the Community Coats Request Form. The deadline to submit a Community Coats Request Form is November 1, 2018.
Agencies will be selected at the discretion of The Junior League of Austin and those selected to be part of Community Coats Distribution will be notified by November 30, 2018.
If you are requesting more than 1,000 coats, please contact the Community Coats Coordinators to discuss your needs.
For questions, please contact CFK Community Coats Coordinators:
cfkcommunitycoats@jlaustin.org
512-888-9034