Dashing Toward the Holidays
I have a confession to make: a holiday tree has been up and decorated in my home since before Halloween.
In my house, we don't typically start to deck the halls until at least November, but something about the feeling in the air this year has us ready for the cozy comfort of the winter holiday season. Maybe it is the quick shift in the weather after a long Austin summer, or perhaps it's the prospect of finally celebrating with loved ones without an ever-present computer screen. Whatever the case, in our home of blended holiday traditions, we are already planning a party with the working title "Latke Extravaganza" and listening to our favorite holiday stories (mine is "SantaLand Diaries" by David Sedaris).
Even with our early start this season, I know it won't quite feel like the holidays have arrived until I walk through the doors at Palmer Events Center for The Junior League of Austin's A Christmas Affair (ACA) 2021 Dashing Through the Snow. Whether I'm volunteering to support the event, shopping the market, or attending a fabulous party, A Christmas Affair has become a beloved tradition in my life, just as it has for so many other Austinites over the past 46 years. Most exciting of all, we can shop and celebrate in person this year! 
If you weren't able to purchase tickets for in-person private parties before the deadline, fear not! There are plenty of other ways to get in the spirit at A Christmas Affair, including virtual events, raffles and auctions, photos with Santa, and shopping the market. Here are some highlights:
The market, which features nearly 200 merchants, is open at varied hours Thursday, November 18–Sunday, November 21. Be sure to visit the Live Tree Farm to place an order for your holiday tree from local Brungot Farms. Market passes may be purchased at the Palmer Events Center box office or online, where you can also find more information about shopping hours and parking.
Saturday, November 20, 8–10 a.m.
Ready to wake up with private shopping and a morning beverage? This event is a festive way to socialize with your friends and family ahead of the holiday season!
This year, A Christmas Affair's children's events and activities are hosted at the JLA Community Impact Center. Children can participate in a "snowball" fight on Mt. Bluffstone, enjoy live and virtual entertainment, dance with Ice Princesses, and meet Dashing the Reindeer over five magical days!  While most of the children's events and activities are now sold out, you can still capture the magic by reserving a holiday photo spot with Santa. 
The lucky winner of this year's raffle will get to take home a stunning black crocodile-stamped calfskin leather tote from Christian Louboutin (with signature red lining, of course!). Tickets can be purchased in quantities of one or five until Saturday, November 20 at 8:30 p.m.
If you've purchased tickets to this year's opening reception, Flannel & Frost, get ready to bid on the live auction offerings, including jewelry, getaways to Cabo San Lucas and Montana, and a VIP experience at Mozart's Christmas Light Show on Christmas Eve. 
If you prefer to get in on the fun from home, check out the Silent Auction! Place bids online for items such as spa and skin packages, weekend getaways, winery and distillery tours, and tickets to all kinds of events. For the first time ever, you don't need a Market Day ticket to bid on the Silent Auction items. Bidding closes Saturday, November 20 at 9 p.m.
Decorations & Merchandise
My housemate and I are clearly not the only ones getting in the holiday spirit. Many decorations sold out quickly when they were released this summer, but there are still plenty of beautiful, festive items to purchase. Page through the lookbook to shop decorations that will turn your home into a woodsy, wintry wonderland!
Serving in The Junior League of Austin continues to show me the impressive ingenuity of our members, especially given the success of ACA 2020 Felicidad and the first-ever ACA Virtual Marketplace. While this year's marketplace won't be fully "back to normal"—get those holiday-themed masks ready—I feel immense gratitude to be able to shop and celebrate in person with other League members, Austinites, and ACA merchants.
I can't wait to carry this joy through my volunteer shifts at Coats for Kids and the rest of the holiday season. Who knows? Maybe the holiday season will stick around a little late this year at our house, too.
Purchase your marketplace tickets now to help provide local children with backpacks filled with nutrition for the weekend with our Food In Tummies—FIT program, a warm winter coat through Coats for Kids, or a new pair of athletic shoes through our Kids In Cool Shoes—KICS program. A Christmas Affair is expected to raise more than $1,000,000 for these and other programs supported by The Junior League of Austin.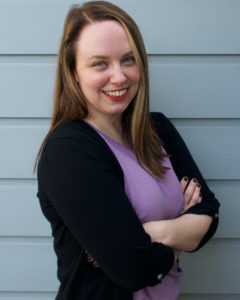 About the writer: Anna Morris has served with The Junior League of Austin for four years. Her love for the Austin community extends to her work for the City Auditor, where she contributes to improving City services for all residents. She enjoys singing with Chorus Austin's Chamber Ensemble, drinking coffee while starting a knitting project she will surely abandon, and snuggling her two rescue dogs.