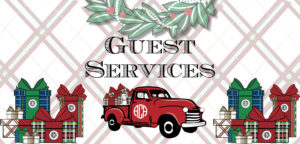 We're excited to welcome you to the 2019 A Christmas Affair! To make sure you have everything you need to make yourself at home, here is a list of guest services along with helpful accommodation and visitor information.
Nearby Accommodations & Amenities
Are you visiting A Christmas Affair from out of town? Click here to learn about nearby hotels, restaurants and attractions.
Palmer Events Center
 Our home for A Christmas Affair is the beautiful Palmer Events Center! Click here to learn more about accessibility at Palmer. Mothers' rooms are located in Palmer's north lobby.
Bag and Coat Check
For your convenience, we offer bag and coat check in the front lobby at the Guest Services desk. The storage fee is $3 per item.
Shopping Bags
All guests will receive one reusable A Christmas Affair shopping bag. Guests may purchase additional bags for $2 per bag.
Elf Assistance
If your bags get too heavy to carry and you don't want to shlep them to the front lobby to check, we'll come to you! Throughout Palmer Events Center you will see the Elf Assistance Hotline number. Just call the number and tell the Junior League volunteer elf where you are located in the market. We will take your bags to the Guest Services desk and check them for you. Elf Assistance is a $4 porter fee plus the $3 per-item storage fee.
Santa's Sleigh Delivery
Did you buy too many things and don't want to carry them to your car? That's a good problem to have and we're here to help! For just $5 you can pull your vehicle into the south circle drive and we will put your items in your vehicle for you. Sleigh Delivery can be purchased at the Guest Services desk.
Guest Services for A Christmas Affair are Sponsored by Jack Brown Cleaners