When the first hint of Fall hit the air, we all noticed pumpkin flavored everything in stores all over town!  Luckily, The Junior League of Austin's cookbook contains a delicious muffin recipe so that you can bake your own pumpkin goodies at home. We hope you enjoy this simple recipe to send those summer months packing and welcome the cooler weather with open arms.
Turn all of these yummy ingredients in to delicious Pumpkin Chip Muffins for the whole family to enjoy!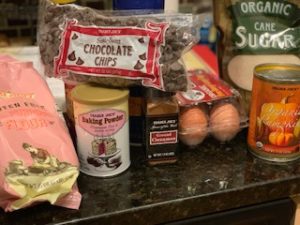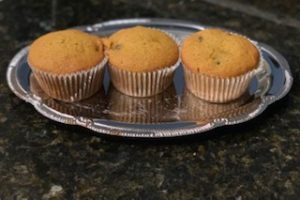 Pumpkin Chip Muffins
Makes 2 dozen muffins
3 cups flour

2 teaspoons baking soda

2 teaspoons baking powder

1 teaspoon cinnamon

1 teaspoon salt

1 (16 ounce) can pumpkin

2 cups sugar

1 ½ cups vegetable oil

4 eggs

2 cups (12 ounces) chocolate chips
Combine the flour, baking soda, baking powder, cinnamon, and salt in a bowl and mix well. Beat the pumpkin, sugar, oil, and eggs in a mixing bowl until smooth. Add the flour mixture and mix just until moistened. Fold in the chocolate chips. Fill greased or paper lined muffin cups ¾ full. Bake at 400 degrees for 16 to 20 minutes or until muffins test done. Cool in the pan for 10 minutes. Remove to a wire rack and cool completely.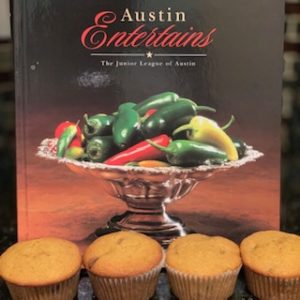 This recipe can be found on page 223 of "Austin Entertains", the official cookbook of The Junior League of Austin.  If you are interested in purchasing a cookbook for yourself or as a gift, you can do so here.
*For a Gluten Free option you can substitute the (3) cups of all purpose baking flour with (3) cups of  all purpose gluten free baking flour.