JLA Community Partner: Mother's Milk Bank Austin
A Junior League of Austin community placement spotlight
In 2018, my community placement with The Junior League of Austin (JLA) was with Mother's Milk Bank Austin (MMBA). Coincidentally, I was also in the midst of nursing my son. Since I was already pumping and lucky not to be on any medications or supplements that would have excluded me from being able to donate, I decided to donate milk to MMBA. As a volunteer, it was eye-opening to see the great need for breast milk in our community. While I could only spare around 300 ounces that year, I understood how little is often required to sustain babies and knew I was still making a difference.
About Mother's Milk Bank Austin
Mother's Milk Bank Austin is a unique non-profit organization serving the littlest members of our community by providing donated breast milk to medically-fragile babies. After giving birth, lactating people can donate their expressed breast milk to MMBA, which then processes the milk for safety and nutrition content and distributes it to area neonatal intensive care units, or NICUs. Milk donors might be people currently breastfeeding who have some milk in their freezer to spare, people who have babies at home who no longer need breast milk, or they could be bereaved lactating parents whose babies are no longer with us. Donors must have given birth within the last year and undergo an initial health screening, then continued health screenings, to ensure that their breast milk contains no substances which could be harmful to fragile babies. 
Making an Impact
JLA-placed volunteers help MMBA in two capacities. One set of volunteers are trained to work in the lab, logging and processing milk. An MMBA staff member leads them through the detailed process to ensure the safety of each bottle. Other volunteers, like me, help administratively by working in the office. During my placement, I helped with making copies, stuffing mail, and other tasks. One important job I did that I felt made a big difference was following up with potential donors who had started the approval process but hadn't yet made a donation. Once those donations started coming in, I could just imagine all of the little babies who would benefit!
In addition to the JLA-placed volunteers, Mother's Milk Bank Austin is always in need of community volunteers and monetary donations. Mother's Milk Bank Austin also has donation sites across the country, so if you cannot donate breast milk yourself, you can invite your friends from far and wide to learn about the organization and donate.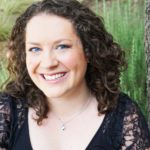 About the Author: Natalie Cummings has lived in Austin for 21 years and is a fifth-year member of The Junior League of Austin. She's enjoyed serving with B.I.G. Love Cancer Care, Mother's Milk Bank of Austin, and on the Done-In-A-Day and Grant committees. She is a local performer and voice teacher and lives in Lakeway with her equally musical husband and son.