Spotlight on Gay Gaddis: JLA Sustainer and All Around Renaissance Woman
When I meet a member of The Junior League of Austin (JLA), I am continually impressed by the Renaissance women who make up our League.  This could not be more true of JLA  Sustaining member Gay Gaddis.

Gay Gaddis founded T3 (The Think Tank), an award-wining advertising agency, and grew it into the largest independent, female-owned agency in the United States.
In 2018, Gaddis' entrepreneurial story was published by the Hachette Group in her book, Cowgirl Power: How to Kick Ass in Business and Life. A professional speaker on women's issues, company culture, and entrepreneurship, Gaddis educates the next generation of leaders through custom leadership training and Women Who Mean Business, a successful, new development program that Gaddis founded and co-teaches at McCombs School of Business at the University of Texas.

Besides being a successful entrepreneur and author, she is also an artist. Her work has been shown at prestigious galleries in New York and Santa Fe, New Mexico. Texas Monthly magazine named Gaddis as one of the "Top Ten Artists to Collect Now."

Beyond this she also finds time to volunteer, lending her expertise sitting on the board of the University of Texas' alumni organization, Texas Exes. She is  also an advisor for both the College of Fine Arts and the Moody College of Communication at the university.

She is featured on the cover of Texas CEO Magazine. Gaddis' cover story in Texas CEO Magazine, "A Texas Trailblazer," anchors an issue that includes an overview of Austin's startup funding scene; an in-depth analysis of career paths taken to the CEO role; and interviews with notable Texas leaders like Jaimee Eddington, regional leader of Heidrick & Struggles' Americas region and Brooke Waupsh, founder and CEO of Swoovy.

Texas CEO Magazine's publisher and CEO, Donna Bragg, who wrote the cover story, said about the piece, "[Gaddis] generously shared her entrepreneurial journey, holding nothing back, and let me pick her brain on everything from the advertising industry to the art market to what it means to be 'kickass.' The result is one of my favorite stories we've done since I came on as publisher last year. I know our readers will be inspired by Gay's grit and perseverance and enriched by her advice. We can't wait to share it with them."
Gaddis shared her excitement, saying, "Hard work, knowing my personal power and working with an extremely talented and dedicated team is a big part of my success…After reinventing myself many times over, it is a great honor to be on the cover of Texas CEO Magazine with the hopes of inspiring other businessmen and -women to take big leaps in their lives and careers."

Gay Gaddis: entrepreneur, author, artist, volunteer, and covergirl, truly embodies the Renaissance woman. We are proud to recognize her during National Volunteer Month and honored that she is a  Sustaining member of The Junior League of Austin.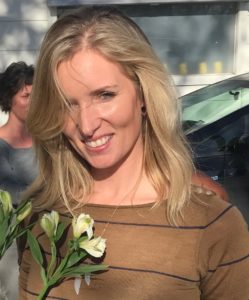 Jenn Wilson, LeagueLines Editor, is currently in her fourth year of service with The Junior League of Austin. She enjoys the outdoors, conservation work, animals, and the arts. Jenn Wilson is a contemporary visual artist and shows her work at galleries across the country. In her free time, she helps run a non-profit arts collective in Austin and enjoys sailing on Lake Travis.