6th Annual Austin Entertains
By: Kiley Sheehy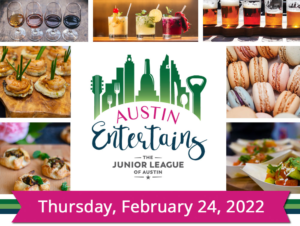 The Junior League of Austin (JLA) is happy to bring Austin Entertains back for its sixth year – and we are even more excited to be back in-person at the Community Impact Center!  
Austin Entertains is proud to spotlight one of JLA's signature impact Programs, FIT – Food in Tummies, which helps combat food insecurity in east Austin and Del Valle.  Additionally, Austin Entertains is proud to continue the tradition of the Austin Entertains Fellowship, which will award a participating chef or artisan a cash grant to advance her educational, business or professional development. The Fellowship also includes a suite of services for the recipient and helps further the League's goal of supporting  entrepreneurs and innovative women in the culinary arts.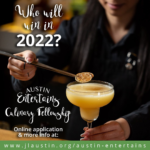 In the Austin community, we are fortunate to have a vibrant culinary scene, and the primary goal of Austin Entertains is to elevate and celebrate the key women entrepreneurs who fuel that industry.  For six years running, Austin Entertains has supported entrepreneurs and innovative women in the culinary arts by showcasing Austin's most talented chefs and bartenders alongside local winemakers, brewers and spirit purveyors. This year, Austin Entertains will showcase  a number of new and returning local establishments, and JLA is excited to welcome everyone back to the Community Impact Center, in-person, for this exclusive tasting experience led by the women in the Central Texas culinary industry. 
This year's culinary participants include:
Krystal Craig

from

Intero Restaurant

Michelle Dayon

from

Michelle's Patisserie

Rosemary Ewald

from Spread and Co.

Sheri Guyet

from 5280 Burger Bar and Taphouse

Nahika Hillery

from Kreyól Korner

Carol Huntsberger

from

Quality Seafood

Naomi Kubo

from Kemuri Tatsu-ya

Jackie Letelier and Emily Stengel

from

Casaro

Julie Lightfoot

from

This Girl's Kitchen

Reina Morris and Paola Guerrero-Smith

from Buenos Aires Café

Heather Payne

from

Farmhouse Delivery

Janie Ramirez

from

Dai Due

Poc Saenz

from Rosedale Kitchen and Bar

Megan Turbeville

from

Root Cellar Catering

Elisia Velasquez

from

Teddy V. Patisserie

Amanda Wadsworth

from Tiny Pies

Teresa Wilson

from Sala and Betty
And many others! So many favorites – only so much space in your belly! 

While this year's tickets are sold out,  there are still ways to support and participate in Austin Entertains. One way is  this year's raffle package which includes twelve unique gift cards for exciting experiences and dinner at some of the most popular restaurants in town, including many of those showcased during Austin Entertains. Featured experiences include a hotel stay at Hotel Ella, brunch at Goodall's Kitchen, lunch at Dai Due, dinner at Home Slice Pizza, and more! Raffle tickets are $25 each or five for $100.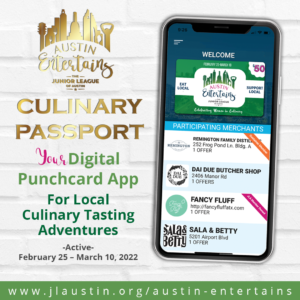 For the first time, this year, we are offering the very special Austin Entertains Culinary Passport.  Go beyond Austin Entertains event-night and into a self-guided, two-week event that expands the Austin Entertains culinary experience beyond our event-night doors. With the purchase of an Austin Entertains Culinary Passport, you can enjoy unique experiences and exclusive discounts at over 20 local establishments from February 25 – March 10, 2022. The Austin Entertains Culinary Passport is $50. You will have a great time touring our community with the Culinary Passport!
Of course, you can always support Austin Entertains with a donation of any amount by visiting the JLA website at www.jlaustin.org/donate-now.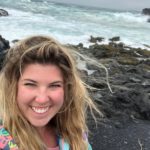 About the writer: Kiley Sheehy has served with the Junior League of Austin for two years, before that she was with the Junior League of San Francisco where she won Rockstar of the Year for JLSF's flagship fundraising event, and before that she was with the Junior League of Cincinnati as a provisional. She loves Austin, especially eating tacos, going to the original Summer Moon Coffee and running and running and running around Town Lake getting ready for her next race.